Home in need of a clean?

Are you tired of trying to find an efficient and reliable cleaner? Have you tried a few cleaning companies and felt disappointed?

Then give us a try!

We supply the same cleaner every time, so they get to know you, your house and your needs. No need to explain what you need every week - we take care of it all!

Services
• weekly cleaning
• ironing
• one-off cleaning
• end-of-tenancy cleaning
• after-party cleaning
• spring cleaning
• bed linen changing
• any other cleaning


We are also safe key holders. In case of an emergency we bring you a spare key so you avoid expensive locksmiths.

Weekly cleaning

• hoovering
• dusting
• mopping
• washing dishes
• emptying/loading the dishwasher
• cleaning kitchens and bathrooms
• changing bed linen
• emptying bins
• watering flowers
• tidying up cupboards and shelving
• airing the house while cleaning


How we are different

We are different because we listen to what our clients say and we follow their instructions to the letter. We do our best to deliver even more than they expect us to, and are proud of our quality work.

Every house is different and requires an individual approach. Not only do we understand this but we deliver a tailor-made service suitable for every home.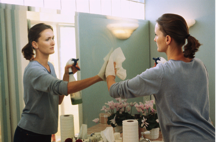 Happy clients
We are reliable, experienced and affordable, with
local references
that we encourage you to check.

We are sure you will be as happy with our work as our existing clients are.